How to Access CDU Webmail?
Open your Browser (Google Chrome or Mozilla) and type https://cebudoctorsuniversity.edu/webmail.
Enter your email address (xxxxx@cebudoctorsuniversity.edu) and enter your password you can obtain your login credential from your designated College Secretary.
Check the box "Open my inbox when I login" and  click "Open"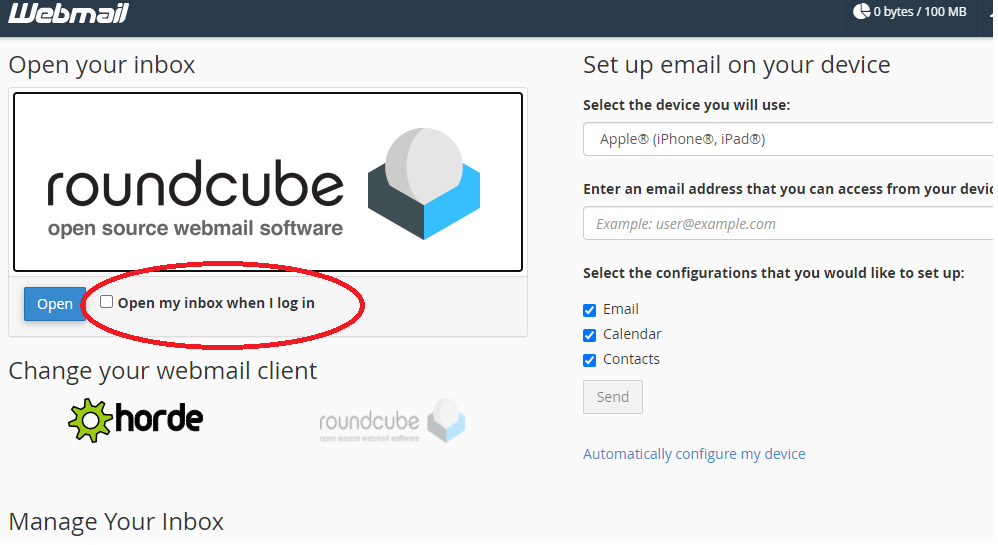 CONTINUING STUDENTS ENROLLMENT PROCESS
This allows students to apply to the next higher program, e.g. from SHS to College, from College to Medicine  or to Master's, or from Master's to Doctorate.
Allows the student to apply using the existing student ID number.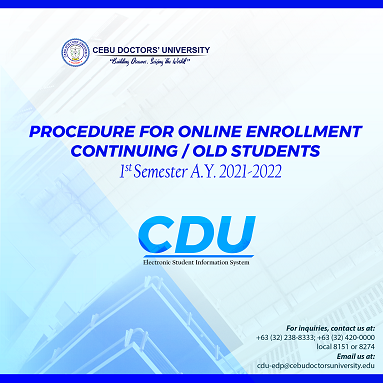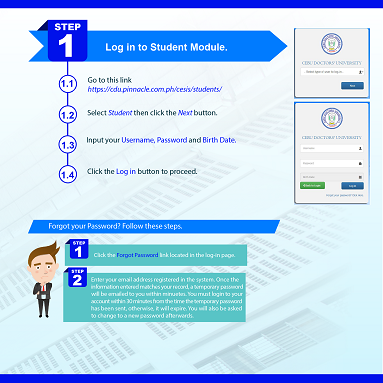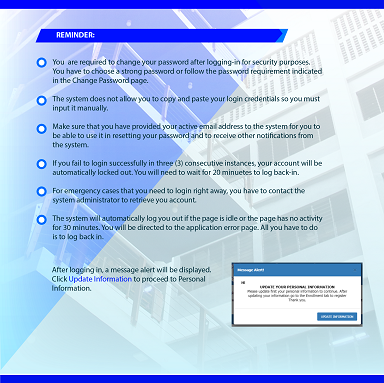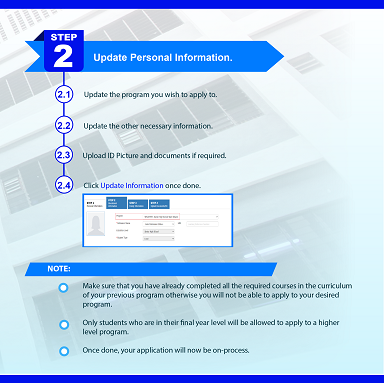 ADMISSION FOR NEW INCOMING STUDENTS A.Y. 2020-2021
New Procedure for online application
(for Graduate School, College of Medicine and Undergraduate College Programs)
PROCEDURE FOR ONLINE APPLICATION FOR CLEARANCE (EXCEPT COLLEGE OF MEDICINE)
(NOTE: Students of colleges or departments that already have an established procedure for
accomplishing the clearance form should follow their college's/department's procedure.)
Step 1
Download the applicable Clearance Form by clicking the appropriate filename below.
Senior High School Application for Clearance – CDU SHS Clearance Form.pdf
Undergraduate College Application for Clearance – CDU College Clearance Form.pdf
Graduate School Application for Clearance – CDU Graduate School Clearance Form.pdf
• If you already obtained the hard copy of the appropriate clearance form from the University Registrar's Office, skip this step and proceed to step 2.
• If you wish to fill out the downloaded form directly on the device, you may do so, then proceed to Step 4. Otherwise, print the downloaded form then proceed to step 2.
Step 2
Step 3
Step 4
Step 5
Step 6
Step 7
1. Dean's/Principal's Office
Wait for an email that will inform you either you are
a. tagged as a "REGULAR STUDENT"
b. tagged as an "IRREGULAR STUDENT"
Be sure to check your email's spam folder
2. Student Payment
Pay the required enrollment fee of Php 15,000.00
Email a copy of the deposit slip or proof of transaction to your Dean's/Principal's office email address using the Email Subject Line: Proof of payment – Last name, First name, M.I. and Student ID Number
3. Dean's/Principal's Office
Wait for an email for a copy of your study load.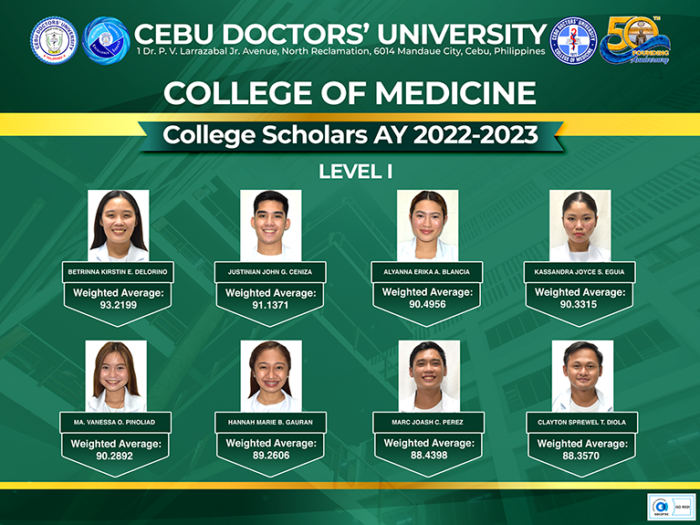 CDU is proud to recognize the College Scholars, Presidential Scholars, and Dean's Listers of Academic Year 2022-2023 from the College of Medicine! Congratulations and keep up the good work! #CDUat50GoldenYears#CDUWISE#CDUCultureofExcellence#BuildingDreamsSeizingTheWorld #PRIMUMHOMOESTO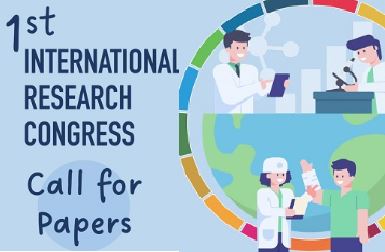 Cebu Doctors' University will hold its 1st International Research Congress on April 12 – 14, 2023 with the theme Empowering Academicians and Strengthening University Engagement in Achieving Sustainable Development Goals through Research. The congress aims to achieve the institution's vision of providing transformative, globally recognized health- and service-oriented education as it continues to develop a […]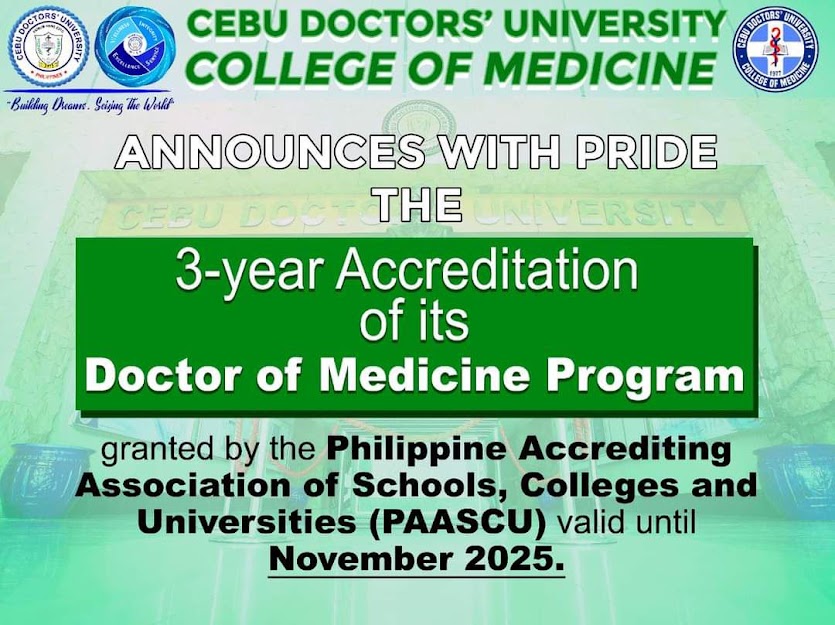 #𝐂𝐃𝐔𝐏𝐑𝐈𝐃𝐄 | 𝐂𝐃𝐔 𝐂𝐔𝐋𝐓𝐔𝐑𝐄 𝐎𝐅 𝐄𝐗𝐂𝐄𝐋𝐋𝐄𝐍𝐂𝐄 Congratulations to Cebu Doctors' University – College of Medicine for achieving the 3-year PAASCU Accreditation! We are proud of you! To God be the glory! #CDUWISE #CDUcultureofexecellence #BuildingDreamsSeizingTheWorld #PRIMUMHOMOESTO
See all our news
Take some time and Visit our Campus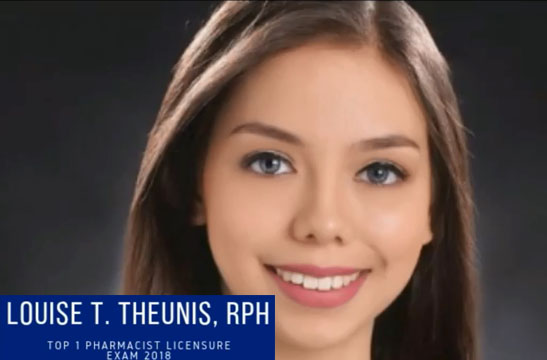 LOUISE T. THEUNIS
1st Place - Pharmacy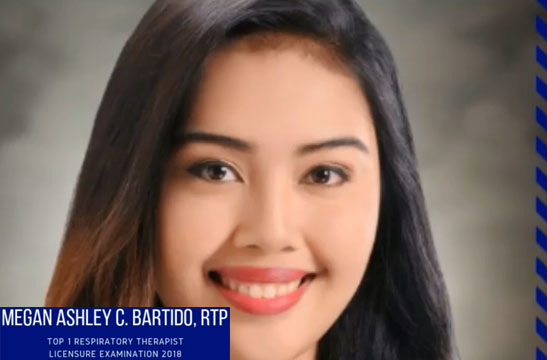 Megan Ashley C. Bartido
1st Place, Respiratory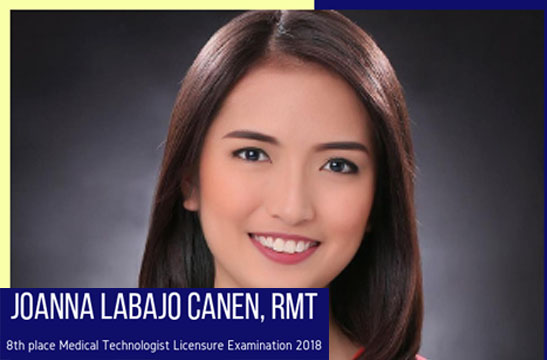 JOANNA LABAJO CANEN, RMT
8th Place, Medtech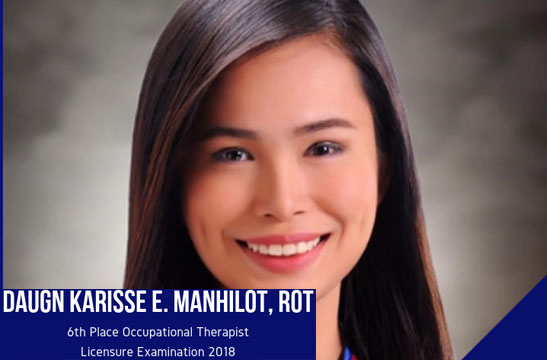 DAUGN KARISSE E. MANHILOT, OTRP
6th Place, OT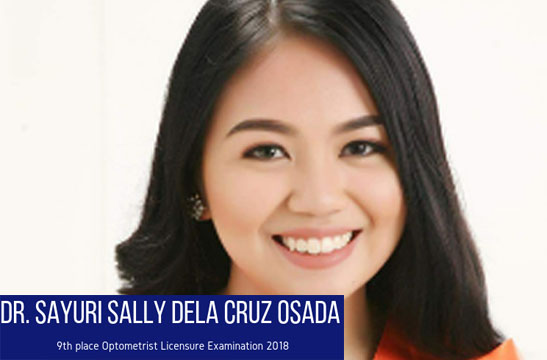 Sayuri Sally D. Osada, OD
9th Place, Optometry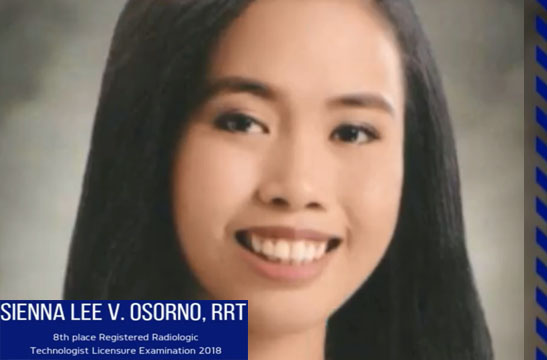 Sienna Lee V. Osorno, RRT
8th Place - Radiologic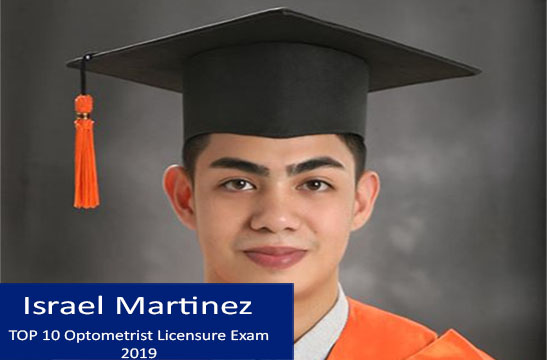 Israel A. Martinez, OD
(10th Place, Optometry) July 2019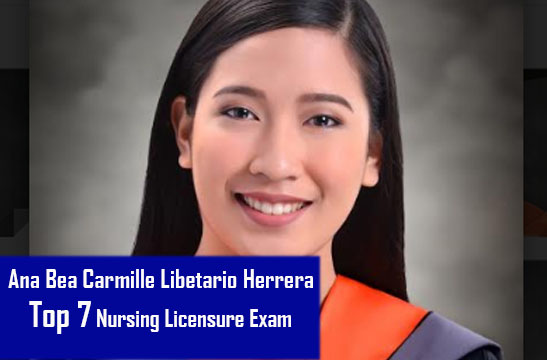 Ana Bea Carmille L. Herrera, RN
(7th Place - Nursing) June 2019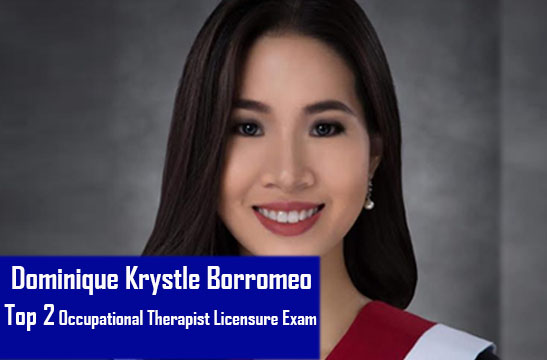 Dominique Krystle O. Borromeo, OTRP
(2nd Place - OT) August 2019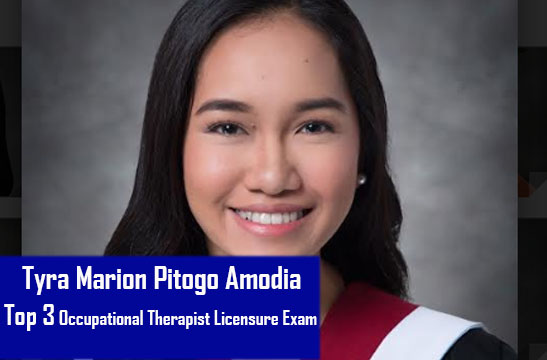 Tyra Marion P. Amodia, OTRP
(3rd Place - OT) August 2019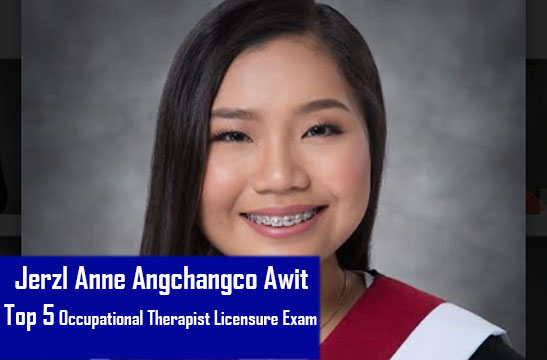 Jerzl Anne A. Awit, OTRP
(5th Place - OT) August 2019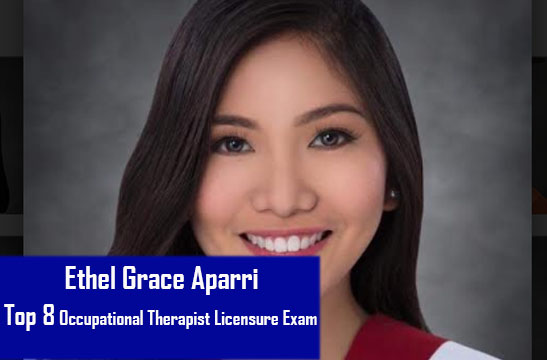 Ethel Grace A. Aparri, OTRP
(8th Place, OT) August 2019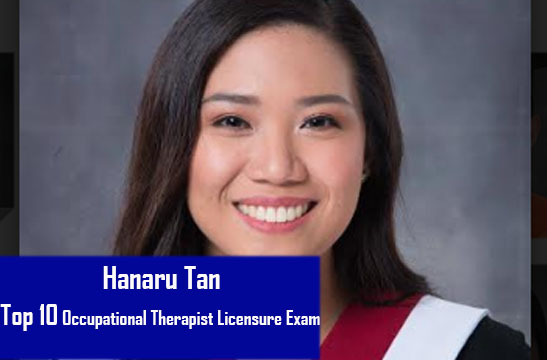 Hanaru A. Tan, OTRP
(10th Place - OT) August 2019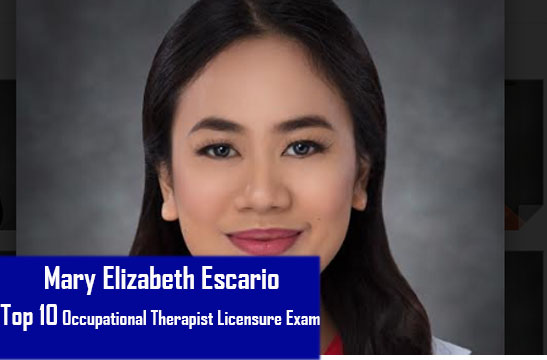 Mary Elizabeth B. Escario, OTRP
(10th Place - OT) August 2019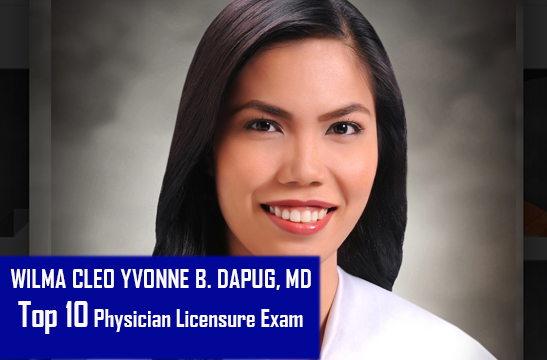 Wilma Cleo Yvonne B. Dapog, MD
(10th place - Physician) March 2019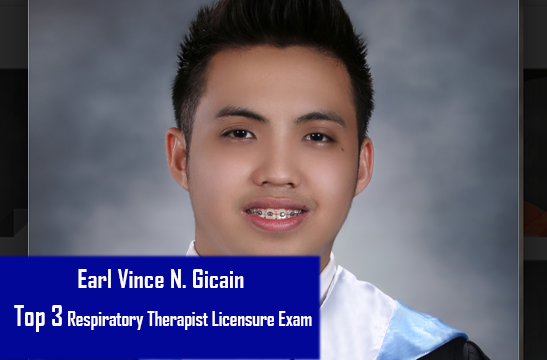 Earl Vince N. Gicain, RTRP
(3rd Place, Respiratory) September 2019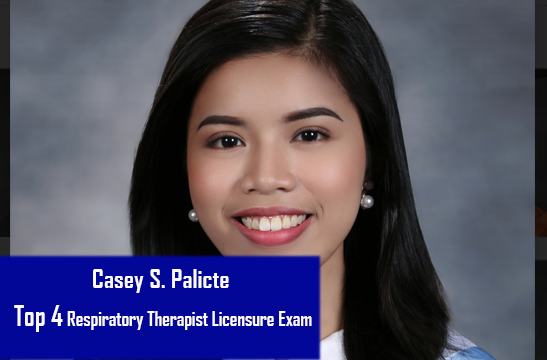 Casey S. Palicte, RTRP
(4th Place, Respiratory) September 2019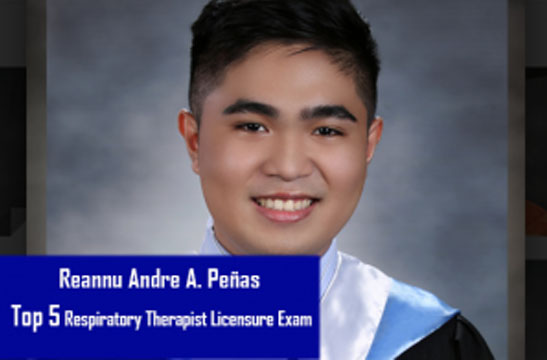 Reannu Andre A. Peña
(5th Place, Respiratory) September 2019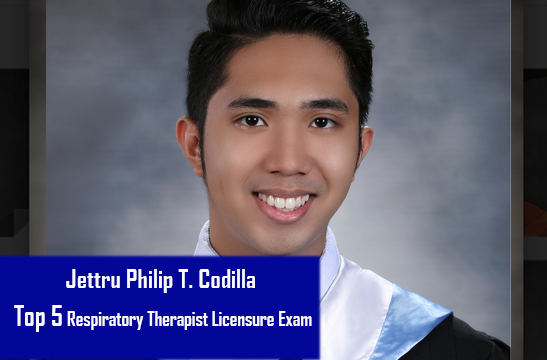 Jettru Philip T. Codilla, RTRP
(5th Place, Respiratory) September 2019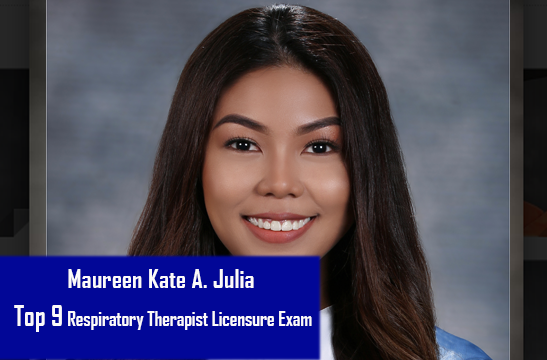 Maureen Kate A. Julia, RTRP
(9th Place - Respiratory) September 2019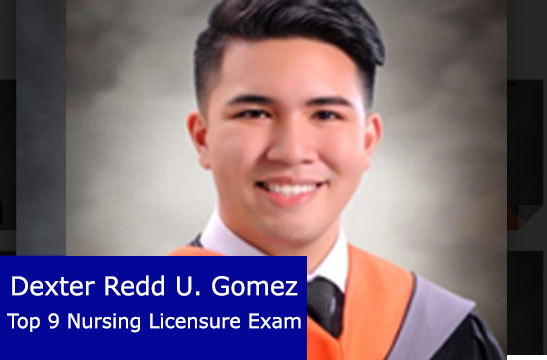 Dexter Redd Gomez
Top 9 Nursing Licensure Exam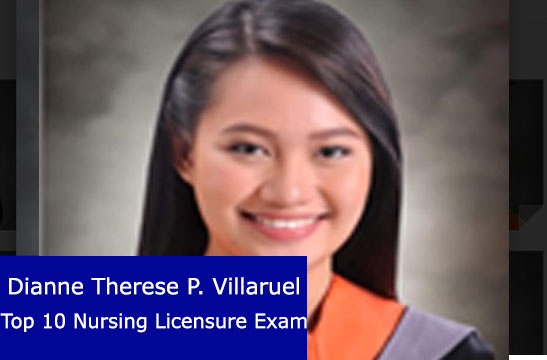 Dianne There Villaruel
Top 10 Licensure Exam