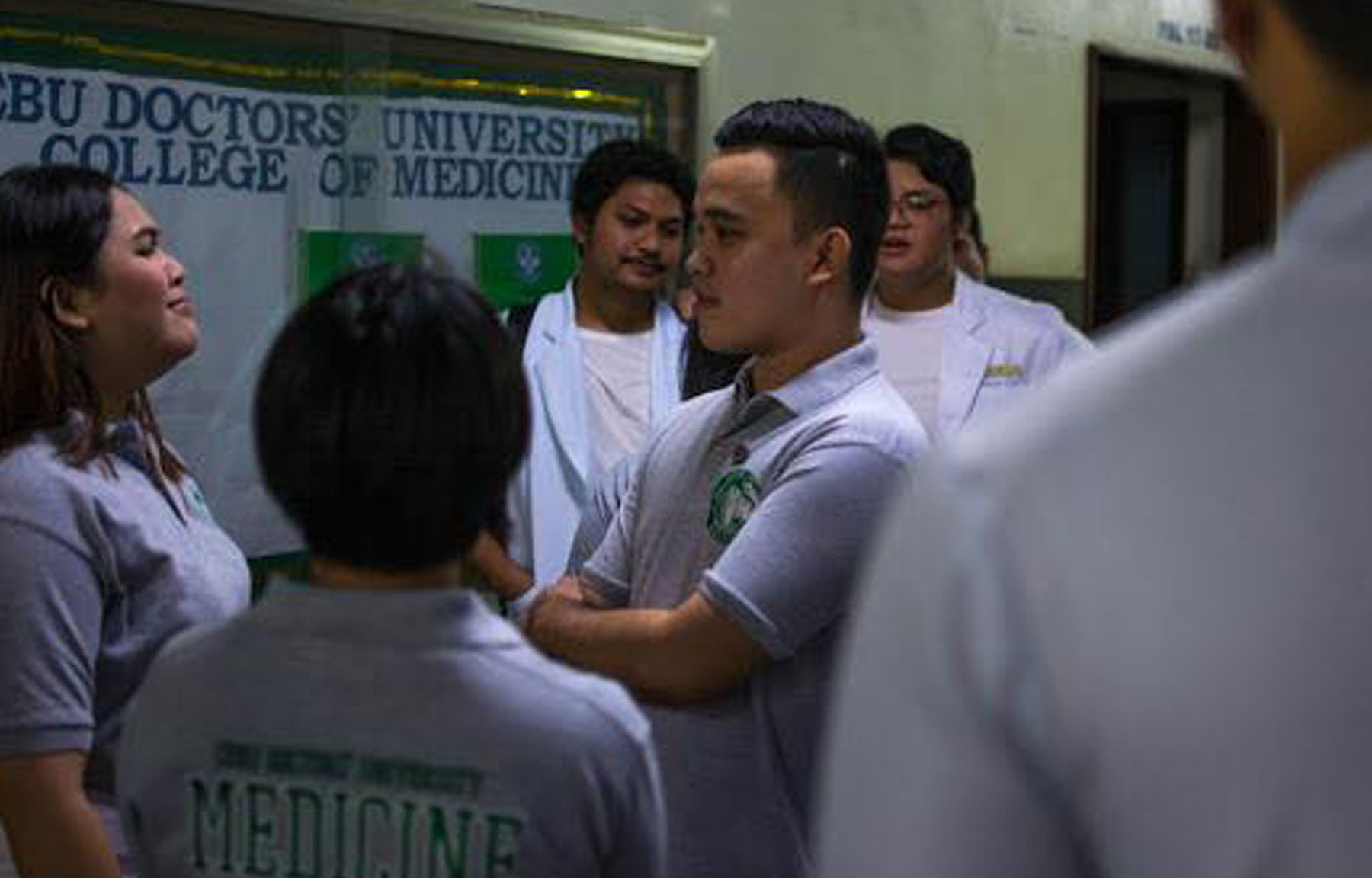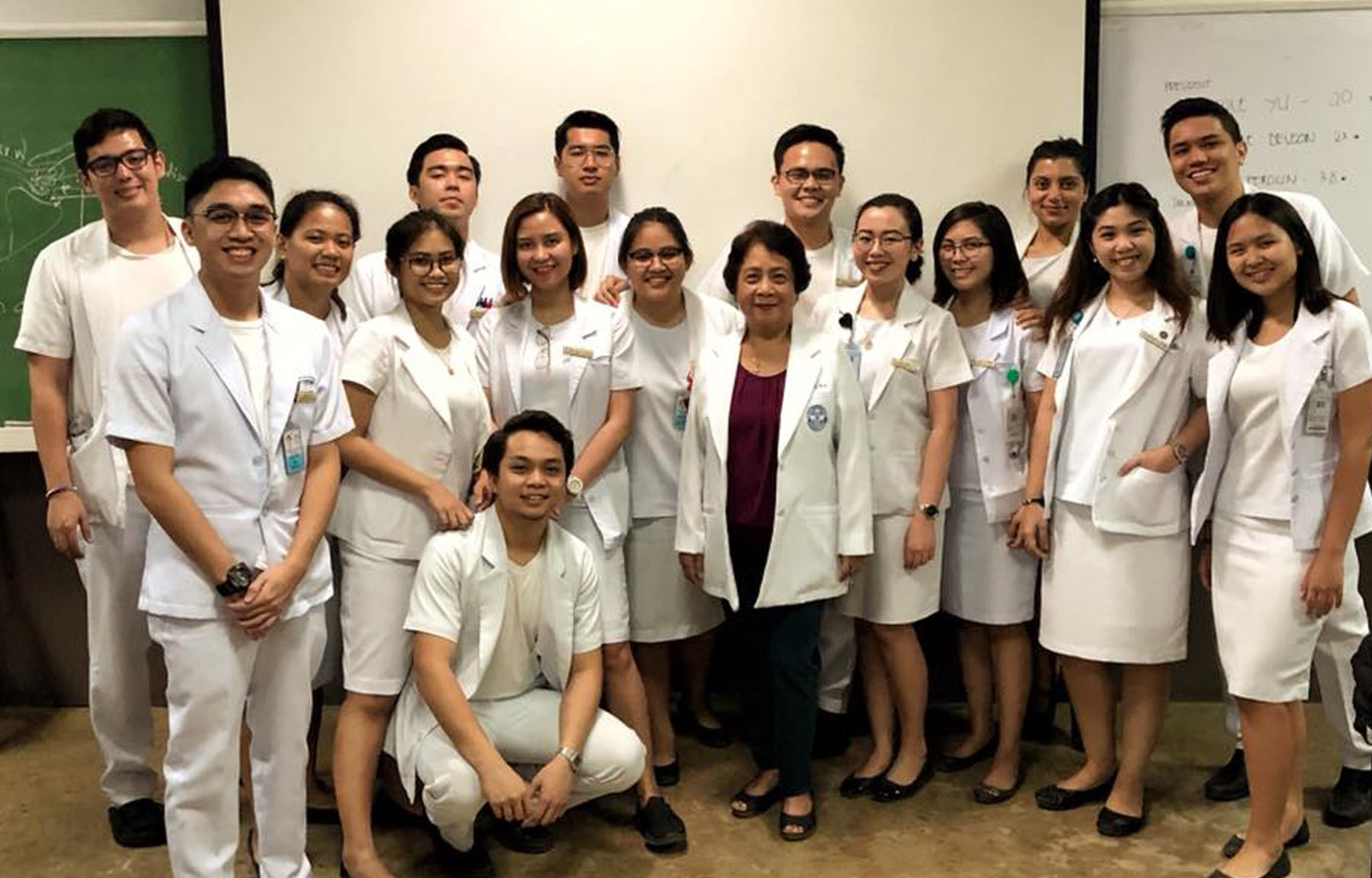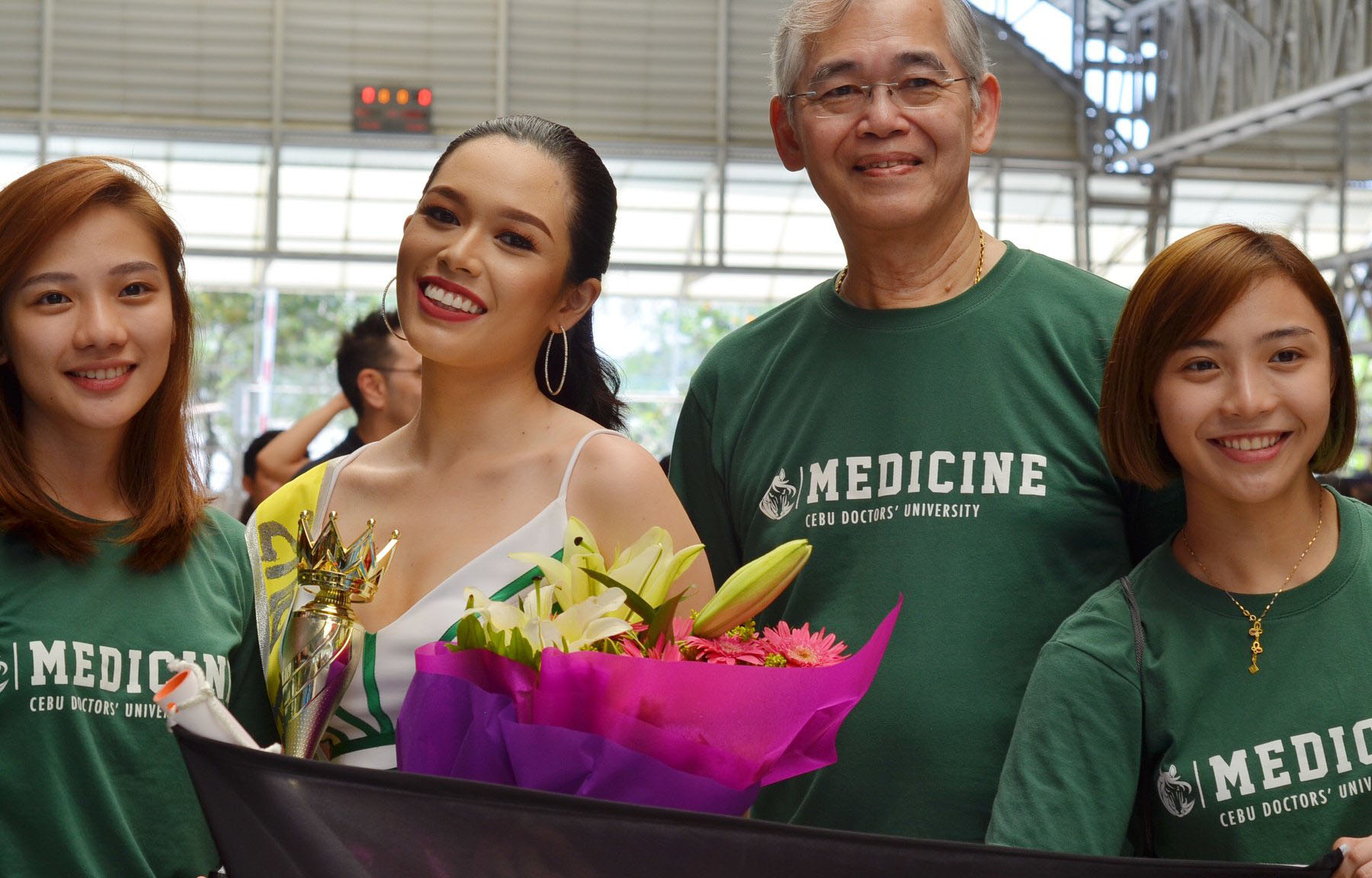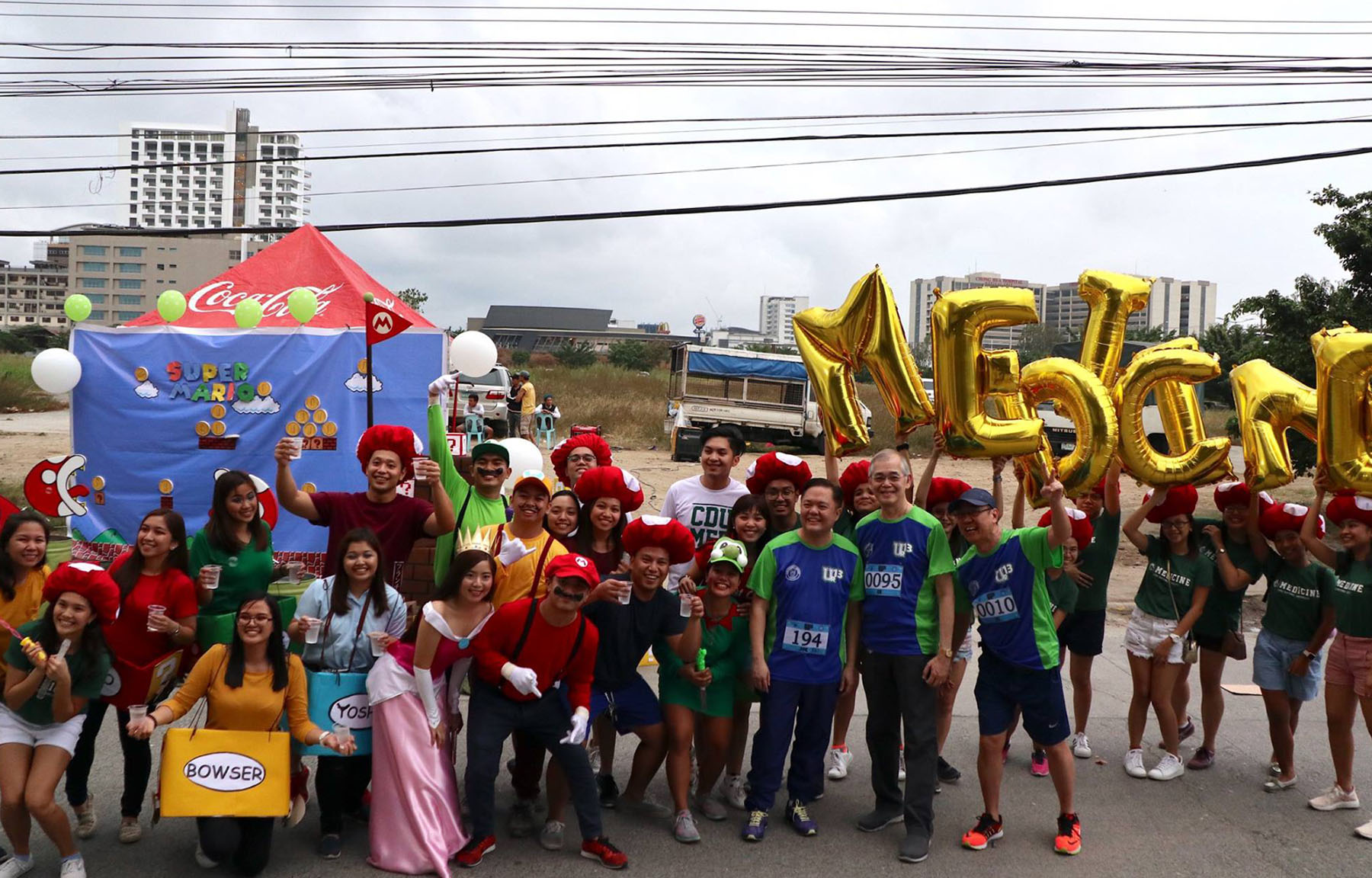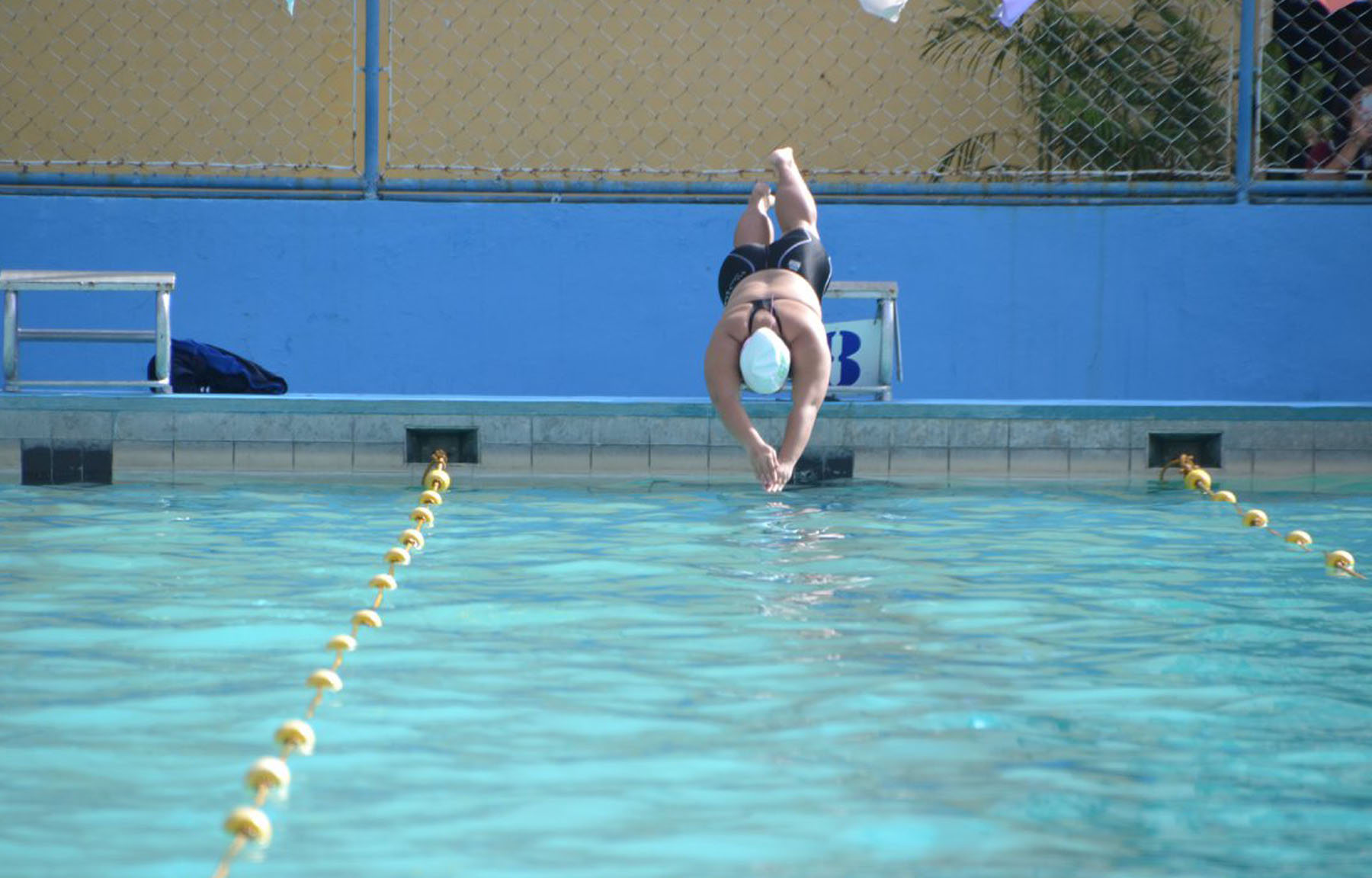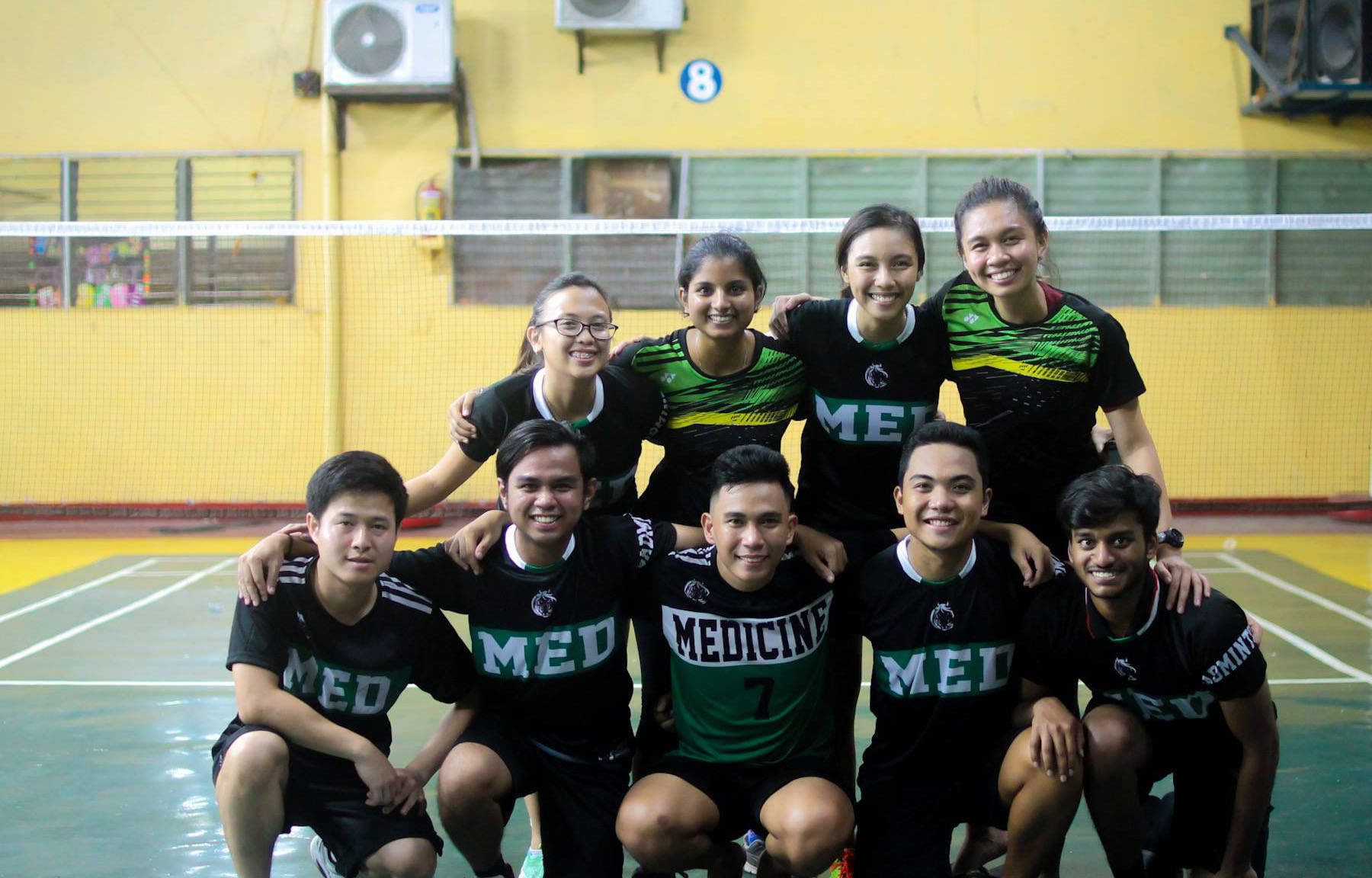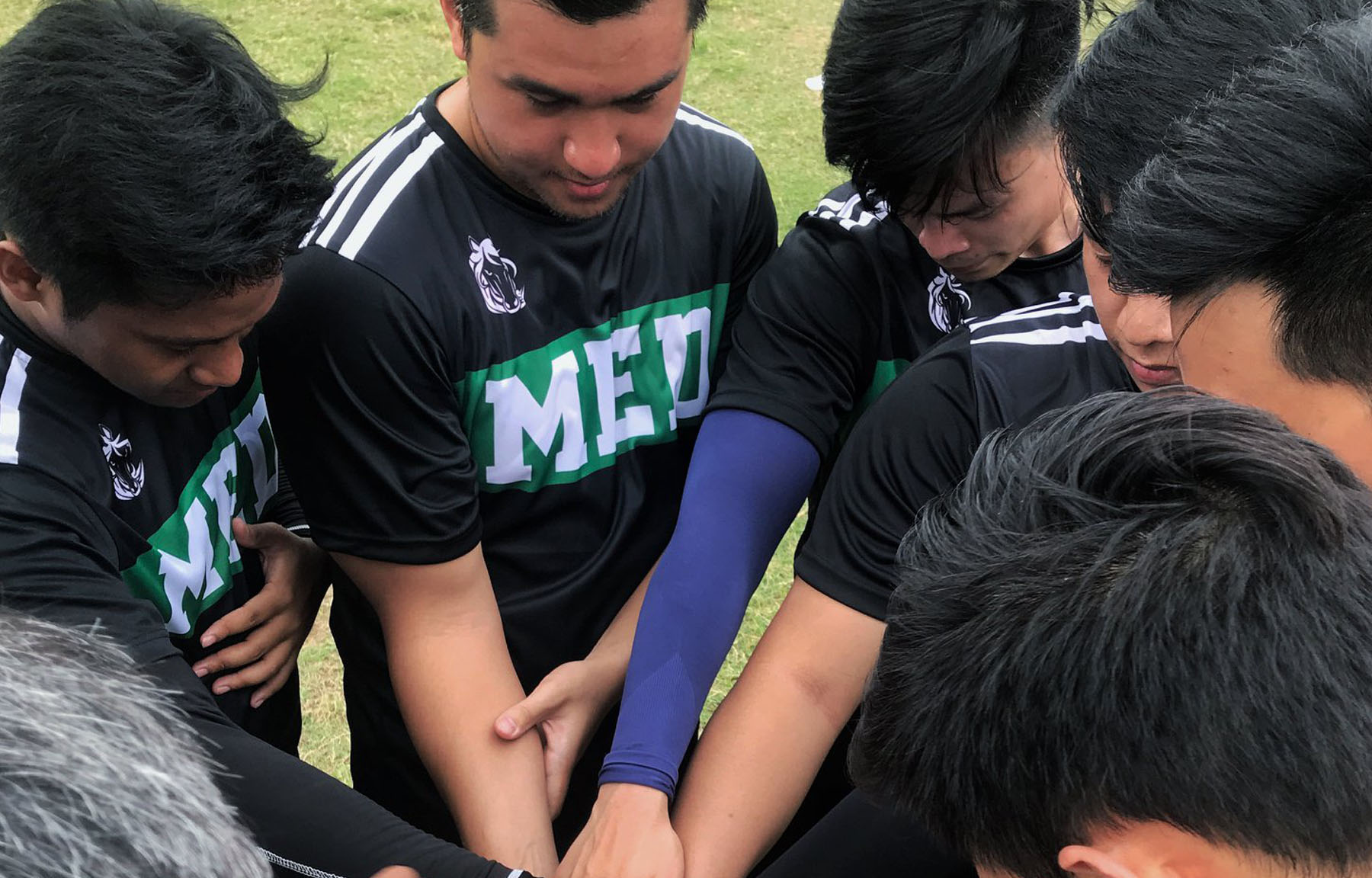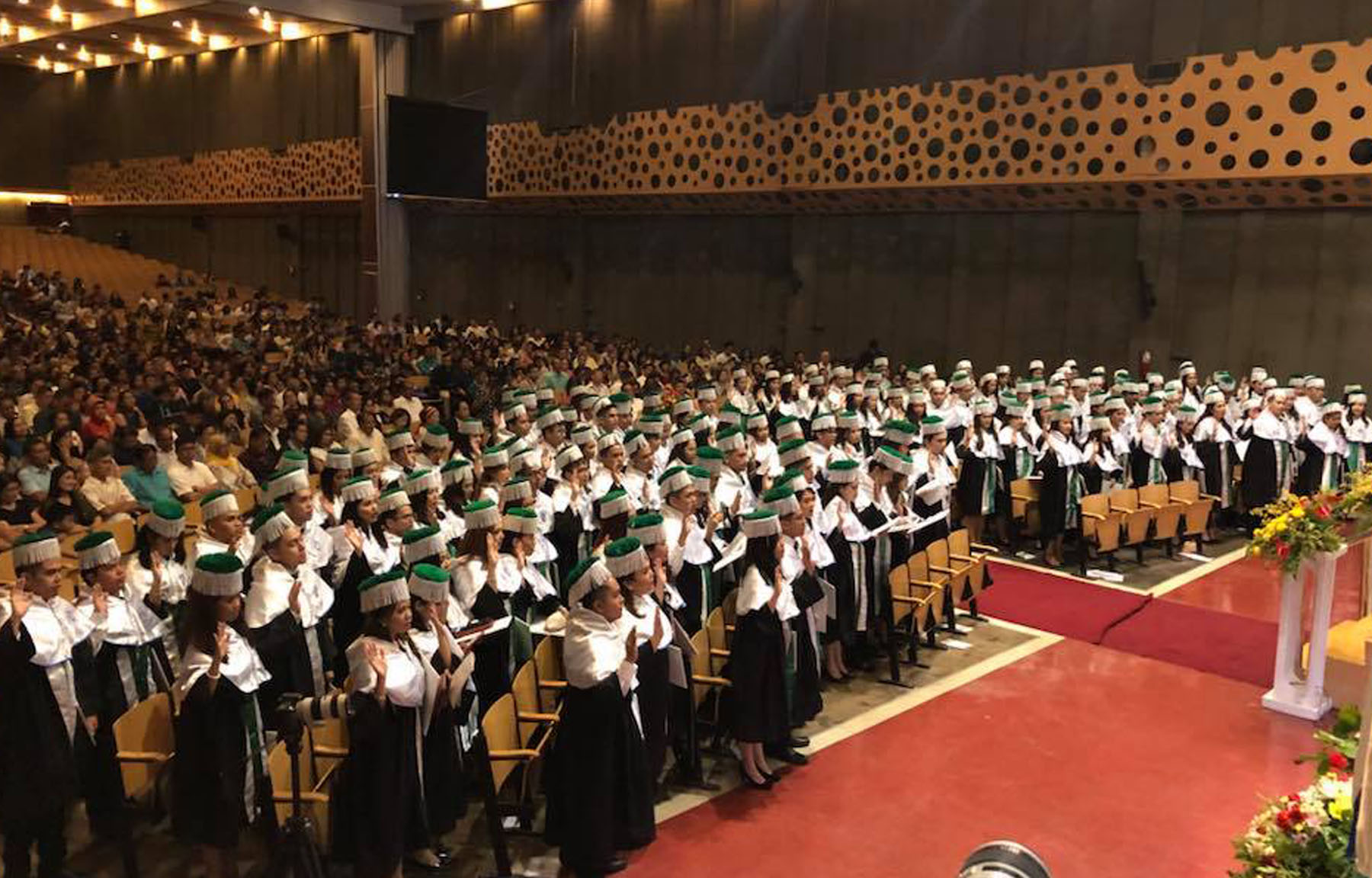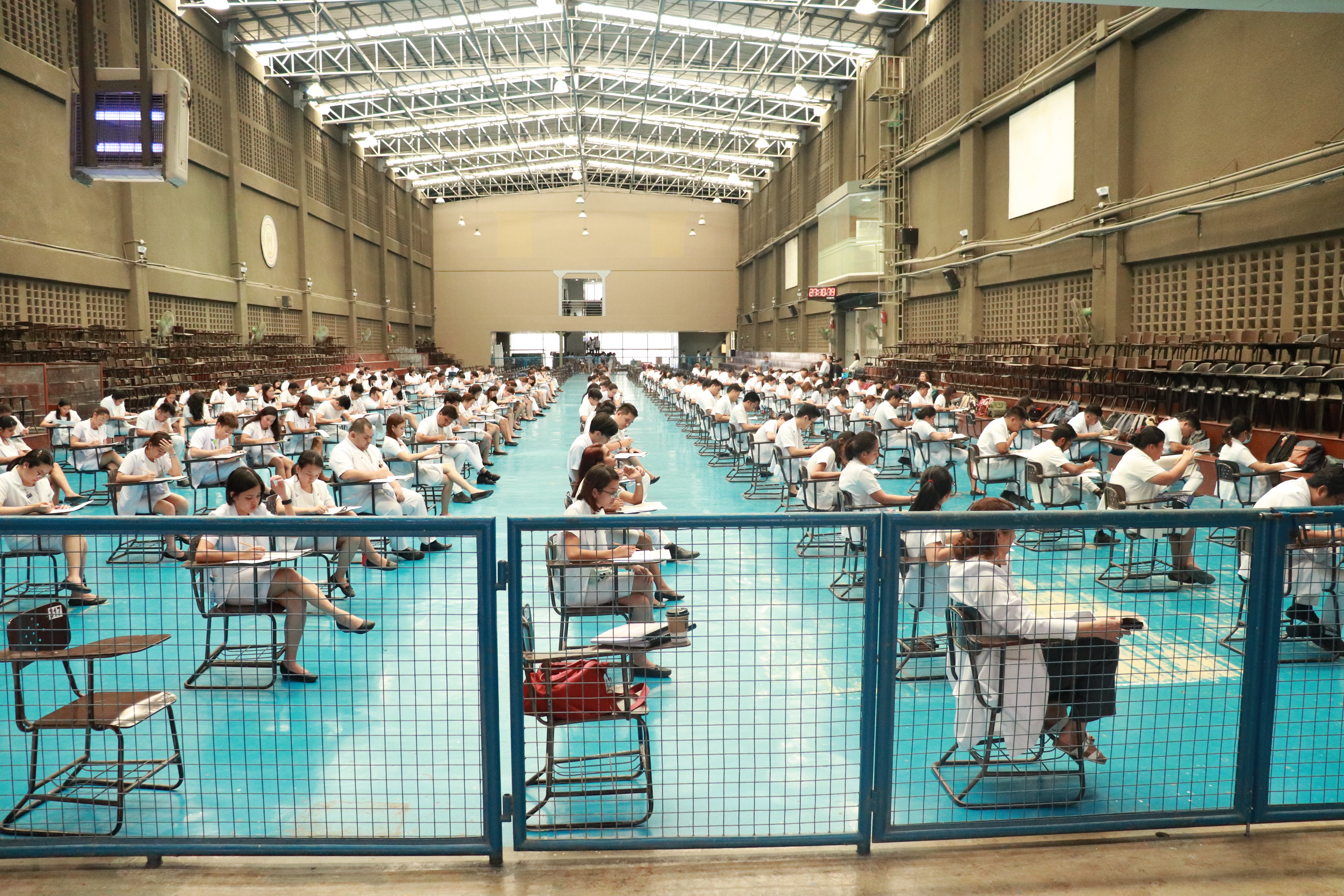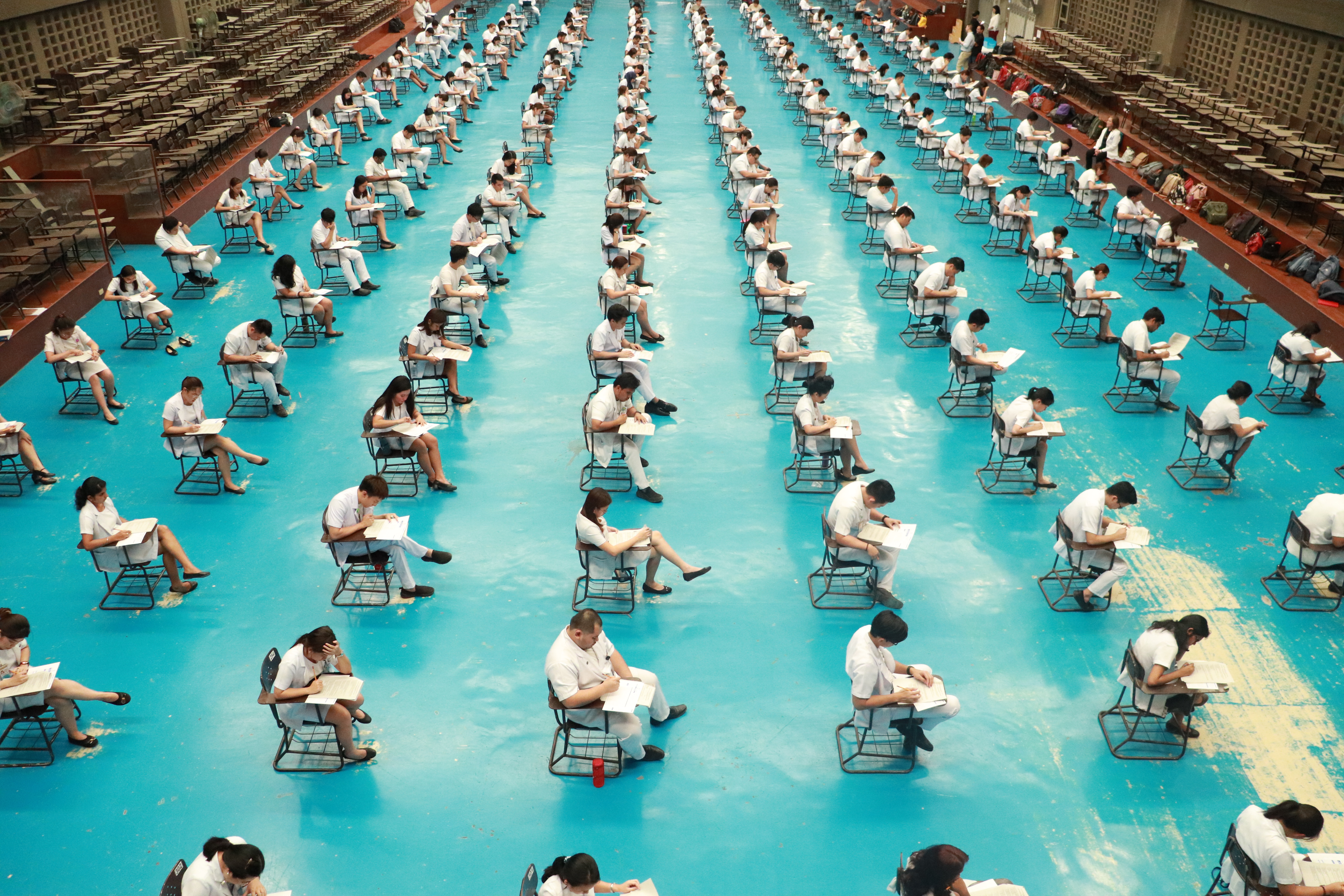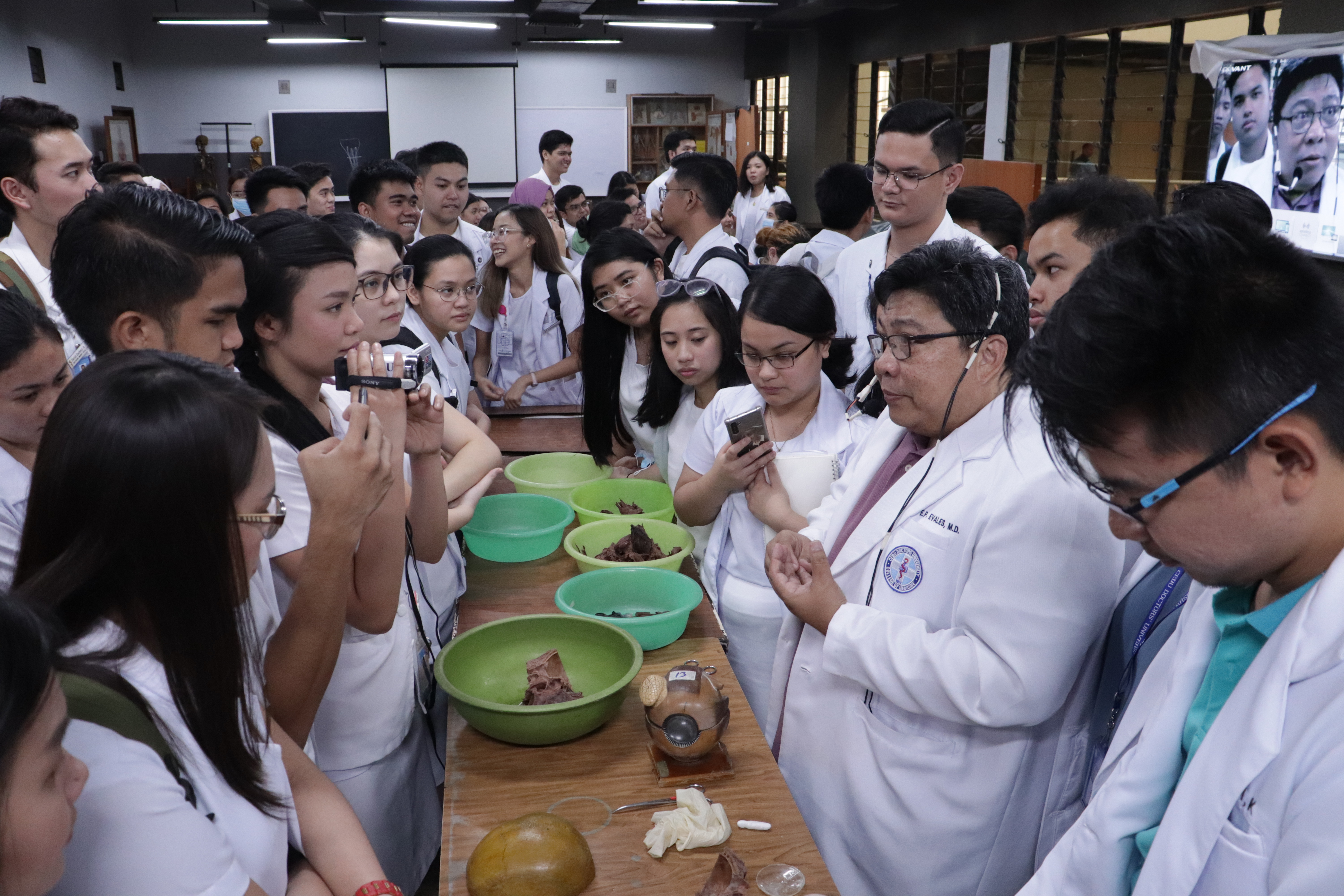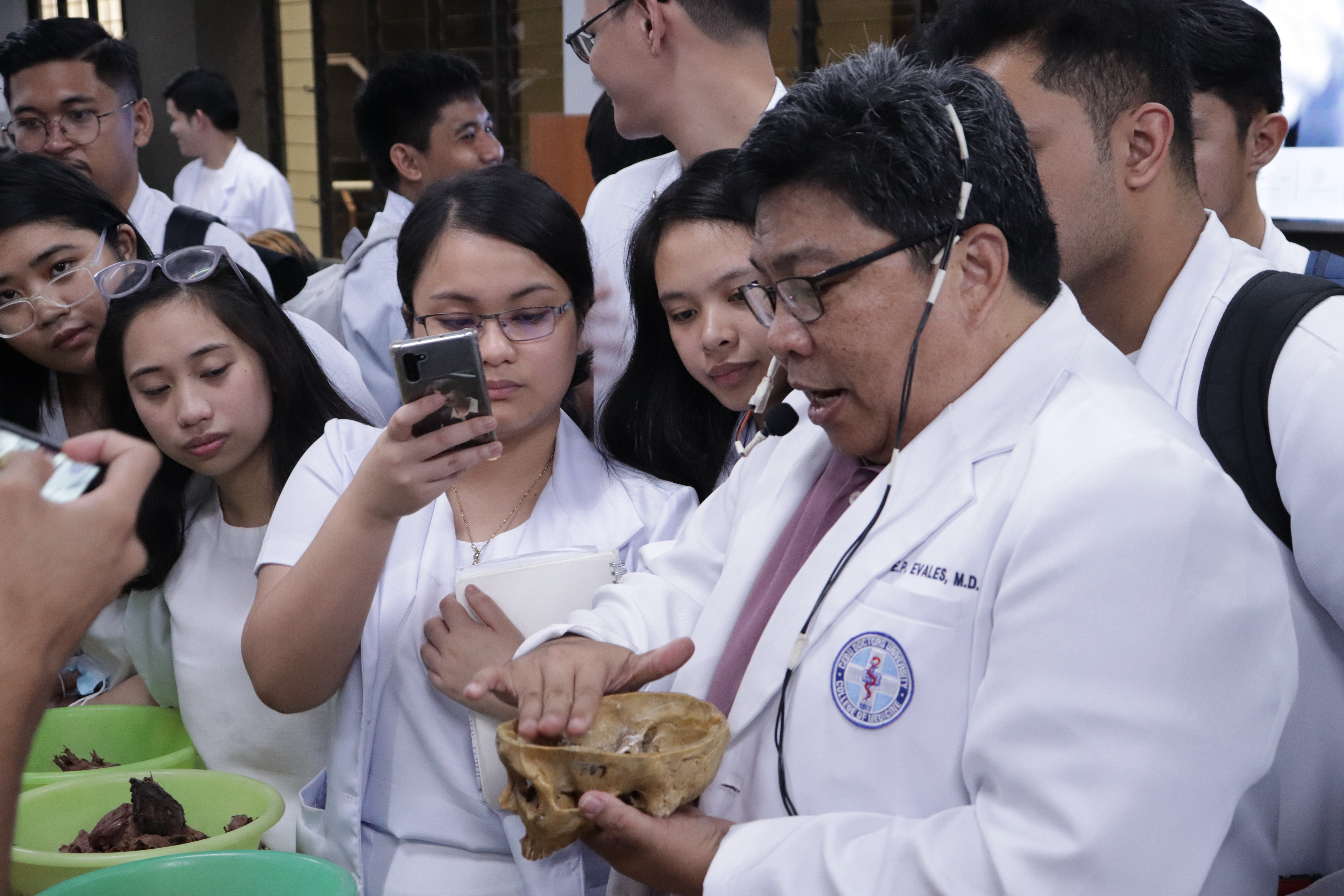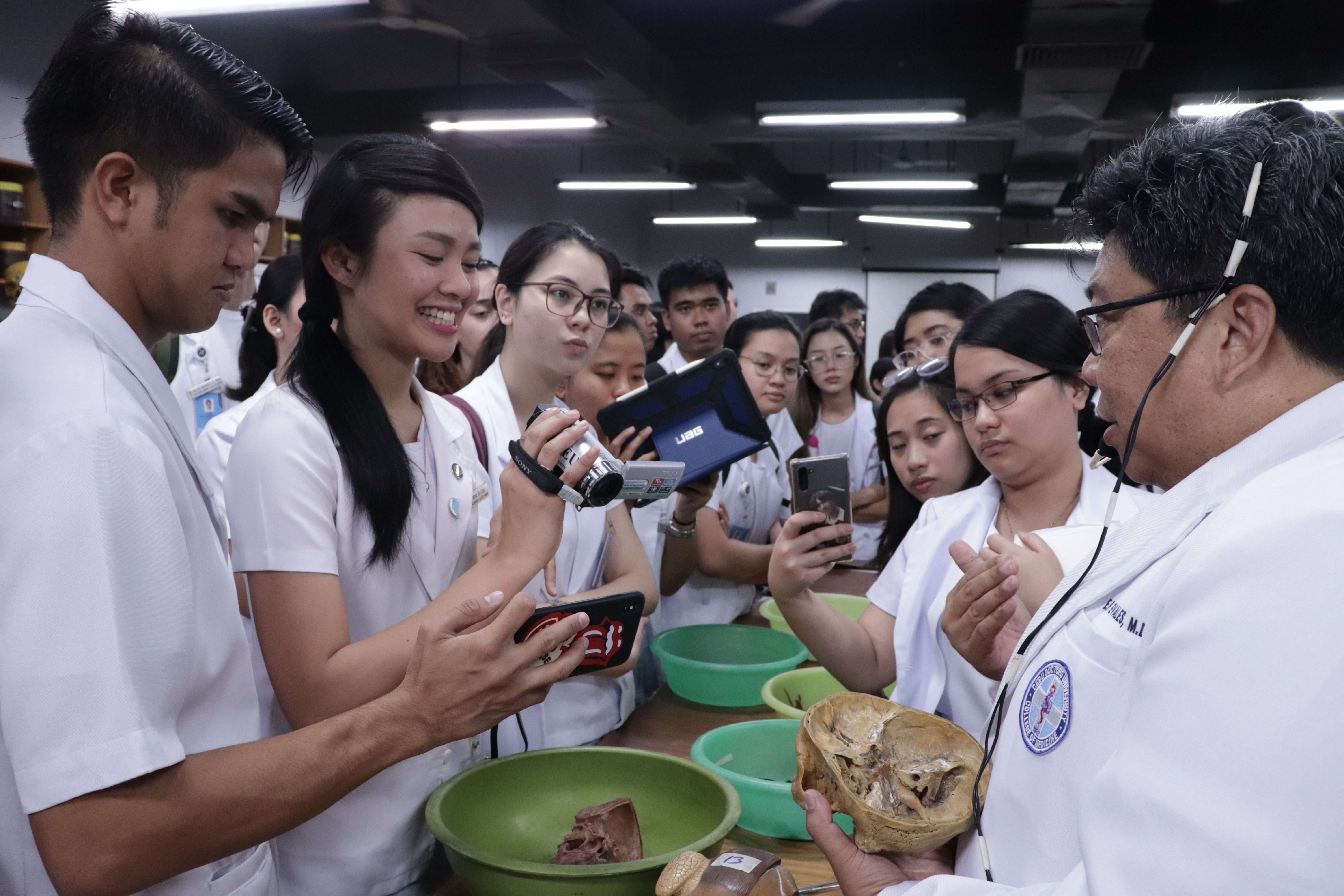 After successfully establishing Cebu Doctors' Hospital, its core founders conceived the opening of a school of medicine as another venue of service that may have a significant effect and contribution to the welfare and progress of the nation. Through hard work and sheer determination, the Board of Directors of Cebu Doctors' Hospital unselfishly devoted their time to secure from the then Ministry of Education, Culture, and Sports, a permit to operate a medical school later called Cebu Doctors' College of Medicine.
On April 21, 1977, Cebu Doctors' College of Medicine (CDCM) incorporation papers were signed and its status as a non-stock, non-profit foundation was approved by the Securities and Exchange Commission on December 21, 1977. CDCM formally opened its doors as a medical institution in June of Academic Year 1977-1978. Out of the numerous applicants, only eighty pioneer freshmen were accepted. Since then, its Board of Trustees has pursued a program of expansion which continues to this date enabling CDCM to grow and earn its mark as one of the best medical schools in the country.
On November 23, 2004, Cebu Doctors' College of Medicine officially became Cebu Doctors' University College of Medicine, with the acronym CDU-CM, after Cebu Doctors' College was granted University Status by the Commission on Higher Education.
VISION
A globally recognized health- and service-oriented college of medicine dedicated to
producing transformational physicians
MISSION
To develop exemplary, compassionate, holistic, and resilient physicians who practice
the Cebu Doctors' University shared values of wellness, integrity, service, and
excellence in response to local, national, and global demands
OBJECTIVES
1. Develop a comprehensive medical curriculum with emphasis on
1.1. Prevention and treatment of common local and global diseases
1.2. Nutrition, breastfeeding, responsible parenthood, and awareness of gender-
based family and domestic violence issues
1.3. Patient safety
1.4. Universal health care
1.5. Digital literacy
2. Develop clinically-competent learners through innovative teaching-learning
strategies
3. Promote generation, utilization, and innovation of new knowledge through
scholarly research responsive to local and global needs
4. Provide opportunities to become effective communicators, educators, and
social mobilizers in a rapidly changing society
5. Train learners who will lead, manage, and work collaboratively with other
professionals in providing optimal health care locally and globally using a
systems-based approach
6. Foster personal and professional development while adhering to national and
international codes of conduct and legal standards that govern the profession
7. Inculcate social, cultural, ethical, and moral awareness and accountability
8. Ensure quality education for the learners by implementing a comprehensive
faculty development program
9. Establish a cordial atmosphere among the learners, faculty, non-teaching
staff, and the administration through regular social and recreational activities
10. Provide scholarships and incentives to learners and graduates with
outstanding performance
Who May Apply
A holder of a bachelor's degree in any field of study conferred by an accredited college or university. The course should have been taken no more than ten (10) years prior to the filing of the application.
A student who expects to graduate at the end of the summer session of the academic year may also apply. The student must submit the Special Order and other documentation required for the issuance of the Certificate of Eligibility for Medicine (CEM). Unless otherwise provided, no action will be taken on the application. Preference shall be given to those who are able to complete the records required.
Disqualified from admission are medical students of other schools who have two or more failures, dropped (Dr.) or incomplete (Inc.) in their records.
Selection Factors
Students are admitted on the basis of their individual qualification, regardless of sex, religion or race. The Admissions Committee requires evidence of general competence, motivation and capability. Aside from grades and test scores, preference shall be given to those who are highly motivated toward people and medicine, have shown high academic achievement and capability, and have demonstrated personality and character traits important to their future growth as physicians.
Application Forms
An applicant should obtain an application form from the Accounting Office of Cebu Doctors' University College of Medicine, Osmeña Boulevard, 6000 Cebu City, Cebu, Philippines. The student application fee is P150.00 (subject to change).
Application Procedure
The filled-out application form must be submitted together with the following:
1. NMAT (National Medical Admission Test) score of 40% or higher (subject to change);
2. College Transcript of Records (TOR). It should contain all subjects taken or are being taken by the applicant, together with the corresponding grades, except those subjects being taken in the second semester of the current academic year. Grades in those subjects should be submitted as soon as possible. A student who expects to graduate at the end of the summer session should also submit a certification from his or her college registrar or other designated school authority that he or she will graduate in summer specifying therein the summer subjects being taken;
3. Letters of reference from two (2) of the applicant's former professors in the school last attended, stating among others, that the applicant has no derogatory record;
4. Authenticated Birth Certificate;
5. Three (3) recent colored identification photographs (2" x 2");
6. A non-refundable P150.00 (subject to change) student application fee.
Early Decision Program
An applicant may avail of the Early Decision Program. In this program, a student must submit all required documents. If the Transcript of Records weighted average is 87% or above, without failures, and all other requirements are found in order, the student will be given a personal interview. If the result is favorable, the student may then apply in writing for reservation as an incoming First Year student.
Acceptance
Only those who have submitted their Transcript of Records, duly accomplished application forms, official NMAT (National Medical Admission Test) results, and have passed the interview will be included in the selection process.
Notice will be given to students whose applications are accepted. The notice will state the date when the applicant is expected to enroll. If the applicant does not arrive on time or cannot submit the papers necessary for enrollment, the slot will be given to the applicant who is next in rank. If the accepted applicant is no longer interested in the application, he or she should notify the College within a period of 15 days (subject to extension) from receipt of the notice of acceptance, to give a chance to other applicants.
If the application is disapproved, the applicant will also be notified. Applicants may be placed on waitlisted status and may be considered for acceptance when slots for the First Year become open; notices of disapproval will be sent when all available slots are filled.
If an accepted student fails to enroll, he or she will be required to reapply, update the application records and documents and pay the application fee again.
The Admissions Committee evaluates on a year-to-year basis the cut-off level depending on the applicants' credentials as shown in their Transcript of Records, personal interviews, and other criteria that the committee will determine from time to time.
Enrollment
Accepted applicants should present themselves for enrollment on the day stated in the notice of acceptance. They should bring the following papers:
1. NMAT (National Medical Admission Test) result of 50% or higher (subject to change);
2. Certificate of Transfer Credential from the school last attended;
3. Certificate of Eligibility for Medicine (CEM), issued by the Commission on Higher Education (CHED). The applicant may obtain this himself, or he may submit the following necessary papers to the Registrar's Office early enough to permit the filing of the application with the CHED on time;
· A duly notarized petition for the issuance of the Certificate of Eligibility for Medicine (CEM). Forms may be obtained from the Registrar's Office;
· Postal Money Order (PMO) in the amount of P60.00 payable to the Commission on Higher Education, Manila;
· Authenticated Birth Certificate or, if not available, baptismal certificate or a duly notarized affidavit (2 copies);
· Certificate of Good Moral Character issued by two former professors in the college where the B.S. or A.B. degree was obtained (2 copies);
· Original and complete Transcript of Records (B.S. or A.B. course) in duplicate;
· A duly authenticated copy of the diploma or a Certificate of Graduation issued by the Registrar of the school where he or she graduated (2 copies). Special Order (B) is to be identified in case of private school graduates;
· Three (3) recent colored identification photographs (2" x 2");
· Alien Certificate of Registration (ACR), if alien, or Certificate of Naturalization issued by a competent court, if the applicant is a naturalized Filipino (2 copies);
· Six (6) documentary stamps at P1.50 each;
4. Residence Certificate for the current year;
5. Study Permit issued by the Commission on Higher Education (CHED), if the applicant is a non-resident alien;
6. Certificate of physical fitness from the Cebu Doctors' University Hospital.
Disapproval by the Commission on Higher Education of the application for the CEM and Study Permit (for non-residents), being a circumstance not within the province of CDU-CM, should not be taken by the applicant against CDU-CM. Cebu Doctors' University College of Medicine, through the Registrar, may assist the student to secure a reconsideration or to clarify the disqualification. The CEM and Study Permit should be secured before enrollment. Students who enroll without the CEM or Study Permit are considered probationary students. Students who fall under this category must endeavor to submit the same not later than the end of the first semester. Students falling in this category assume a risk and Cebu Doctors' University College of Medicine is under no obligation to accept the student without these requirements.
When the College may deny admission to an applicant
The College retains, at all times, the right to deny and revoke the admission of an applicant:
1. if the Transcript of Records is later discovered to have grade deficiencies which were not known at the time of the selection, such that the level of academic performance falls below the standard set by the Admissions Committee;
2. in case of falsification, concealment or misrepresentation;
3. if the guidelines on admission are not fulfilled.
Transferee
A transferee is a student of another medical school who applies to Cebu Doctors' University College of Medicine for enrollment. Transferees, as a rule, will NOT be accepted. However, in exceptional cases, a transferee to the First Year may be accepted upon favorable evaluation of his or her academic records by the College and upon proper written recommendation from the Dean of the original college of medicine attended.
Policy on Transfers from other Medical Schools
The following should be strictly complied with:
· FIRST YEAR MEDICAL STUDENTS from another school who wish to transfer to CDU-CM at the end of the school year for the First Year level may apply to the Registrar and fulfill the following:
§ fill up the application form and fulfill all requirements (photocopy of CEM is acceptable; original copy of Study Permit for foreign students is needed);
§ submit CHED clearance to transfer.
· SECOND YEAR and THIRD YEAR MEDICAL STUDENTS from another school are NOT allowed to transfer to CDU-CM.
· STUDENTS DISMISSED FROM ANOTHER MEDICAL SCHOOL and STUDENTS WITH FAILURES or STUDENTS DEBARRED DUE TO SCHOLASTIC DEFICIENCIES are all DISQUALIFIED to apply for acceptance at CDU-CM.
The College of Medicine Library serves the research and medical education needs of the students, staff of Cebu Doctors' College of Medicine, Medical Interns, Post Graduate Interns, Resident Physicians, Consultant Staff of Cebu Doctors' Hospital , Mactan Community Hospital, North General Hospital, and the Cabangahan Outreach Program.
The Medical Library is a special type of library which houses the collection of most medical references. This Library is located at the 5th floor of the new Cebu Doctors' University. It maintains a collection of relevant periodicals, monographs and reference books in medicine, CD's and DVD's.
As of March 2013, the total collection has reached approximately to 14,000 volumes of books and bound periodicals. The Library has also a collection of 200 and more CD's and DVD's.
It has an Online Public Access Catalog (OPAC) that stores all the library collection for easy and quick retrieval of information.
It adapts the Dewey Decimal Classification System in the organization and arrangement of books and bound periodicals.
Special Collections
Filipiniana Collection
World Health Publications (WHO)
Library Facilities
Discussion Rooms
Internet Room with new sixty computer (60) units
General Rules and Regulations
1. One should present their ID upon entrance in the Library.
2. Bags, boxes, envelopes (big) and other personal possessions are to be inspected upon leaving the library for security purposes.
3. Personal possessions shouldn't be left unattended inside the Library
4. Adhere silence.
5. Anyone sleeping, eating, bringing drinks inside the library premises is not allowed.
6. Students are required to carry their Library card upon entering the Library.
7. Cellular phone ringers must be turned off when entering the library. The library has designated areas to answer and make calls and should be kept to low-level conversations.
8. Unofficial picture taking using digital cameras or mobile phones with built in camera is strictly disallowed. If necessary for project related purposes you may ask permission from any of the Librarians on duty or any library staff.
9. Patrons are required to comply with copyright regulations when photocopying of books, scanning, photographing, printing, downloading from information sources in print, electronic or any other format.
10. General circulation books should be left on the table after using them to avoid misplace. Chairs must be pushed back against the table after using them.
11. Idle conversations, loud talking, loud laughter, and whistling inside the library is strictly disallowed.
12. Cleanliness must be observed at all times. Do not leave your scratch papers or any other things on the table.
Note: The Library may pass additional rules and regulations, which after posting, shall form part of the foregoing. Students who are unable to follow any of the foregoing rules may be summarily excluded in the library.
Library Schedule
Regular Semester
(no noon break)
Monday – Friday
7:00 a.m.– – 6:00 p.m.
Saturday
8:00 a.m. – 12:00 nn
1:00 p.m. – 5:00 p.m.
Semestral, Christmas & Summer Vacation
Monday – Friday
8:00 a.m. – 12:00 nn
1:00 p.m. – 5:00 p.m.
Internet Room Hours
Regular Semester
Monday – Friday
7:00 a.m. – 6:00 p.m.
Saturday
8:00 a.m. – 12:00 nn
1:00 p.m. – 5:00 p.m.
CDU-CM Library Personnel
Ms. Jolly Anne Espina
Medical Librarian
Ms. Ann Maureen Ocamia
Technical Services Librarian
Staff:
Mr. Generoso Avila
Mr. Marlon Bongo
Mrs. Zenaida R. Licanda
Mr. Edgar Sta. Rita
Mr. Emmanuel Reubal
Elective Rotation
Cebu Doctors' University College of Medicine accepts final year medical students from foreign countries who want to do their elective rotation for two weeks or more in a private teaching hospital or in a rural community . We regularly have students from the United States, United Kingdom, and Germany doing their elective rotation with us. The application to do the elective must be received at least two months before the start of the planned elective rotation.
Available departments
Elective rotations are done at Cebu Doctors University Hospital, the main teaching hospital of Cebu Doctors' University College of Medicine. It has the following departments that accept final year international medical students who wish to do electives: Internal Medicine (including Emergency Medicine), Pediatrics, Surgery, Obstetrics and Gynecology, Ophthalmology, Radiology, and Anesthesiology. In addition, the College also accepts students for a Community Medicine rotation at Kauswagan, its community outreach program.
Activities
The rotation at Cebu Doctors University Hospital includes the following: going on rounds with the residents and attending physicians, attending conferences, taking the medical history and doing the physical examination of patients, assisting at surgical operations and deliveries, and doing other medical activities that may be assigned. These, basically, are the usual activities of our fourth (final) year medical students. Regular hours are from 7:00 AM to 5:00 PM daily except on Saturdays, Sundays, and legal holidays during which hours are from 7:00 AM to 12:00 PM only. Twenty-four hour duties are assigned every three days except for the Radiology rotation. A white clinical gown over smart casual clothing should be worn while in the hospital. Scrubs are required at the operating room, labor room, delivery room, and nursery.
For the elective rotation in Community Medicine, students are assigned to Kauswagan Community Clinic and Social Center, our rural community outreach project at Barangay Cabangahan in the town of Consolacion, Province of Cebu. The site is about 15 kilometers from Cebu Doctors University Hospital. Activities during this rotation include fieldwork consisting of home visits, community survey, outpatient clinic work, daytime house calls, and lectures for family health classes. You will be serving adults and children in the rural villages north of Cebu City. The educational attainment of the residents in the area is usually elementary and high school levels although a few had gone to college. The income level of the families is between US$60-120 per month. Eighty-five percent of the residents are Roman Catholics. They are mostly farmers, laborers, public utility vehicle drivers, and employees. The majority speak and understand the English language. At all times, the students are under the supervision of a resident physician. The international students will be working together with the fourth (final) year medical students of Cebu Doctors' University College of Medicine and the Post-graduate Interns of Cebu Doctors University Hospital. Light casual clothing and comfortable footwear for walking are recommended while in the community. A short white coat or clinical gown may be worn when seeing patients at the clinic.
How to apply
Send an email to the Dean, Cebu Doctors' University College of Medicine, at  cdu-cm@cebudoctorsuniversity.edu at least two months before the planned start of the elective rotation, stating your request to do your elective rotation in a particular department or departments. Include the proposed starting and ending dates for each one and the duration (not less than two weeks duration in each department). We prefer that rotations start on a Monday. Because of the number of applications we receive and the fact that we only accept two international medical students at a time in each clinical department, it would be best if you could choose two or more departments and specify your order of preference for them.
Requirements
The following are the documents that you must email before you can be accepted:
1. Dean's certification that you are expected to be enrolled as a final year student in the medicine program of your university during the time that you will have your elective rotation
2. one copy of your Transcript of Records
3. one letter of recommendation from one of your current professors
4. a 2" x 2" colored identification photograph with a minimum resolution of 200 pixels per inch in JPEG format
Notice of acceptance
You will be notified of your acceptance by email.
Matriculation
The current total fee for the elective rotation for Academic Year August 1, 2022 to July 31, 2023 is six thousand four hundred twenty-nine pesos and sixty-eight centavos (PHP6,429.68) per student per week, minimum of two weeks. There is usually a 5-10% annual increase in the fee. The fee is payable within the first week of the elective period and is non-refundable.
Lodging
Several hotels and pension houses are available within walking distance of Cebu Doctors University Hospital. You may make your own arrangements with them online.
Students who will do the Community Medicine rotation may also arrange for lodging near Cebu Doctors University Hospital. All students assigned to Kauswagan will be brought to the community by shuttle from the hospital at 7:00 AM and brought back to the hospital at 4:00 PM.
Ms. Lerma Ocampo
College Secretary
Cebu Doctors' University – College of Medicine
Phone No. (032) 238 – 8333 loc. 517
Email Address: cdu-cm@cebudoctorsuniversity.edu
Mailing Address: Dr. P. V. Larrazabal Jr. Avenue, North Reclamation, Mandaue City, Cebu, Philippines.
Mailing Address: Dr. P. V. Larrazabal Jr. Avenue, North Reclamation, Mandaue City, Cebu, Philippines.